CoAsia Launches ESG Management Committee to Enhance Social Responsibility
페이지 정보
#ESG
# Sustainablemanagement
2021.12.02
본문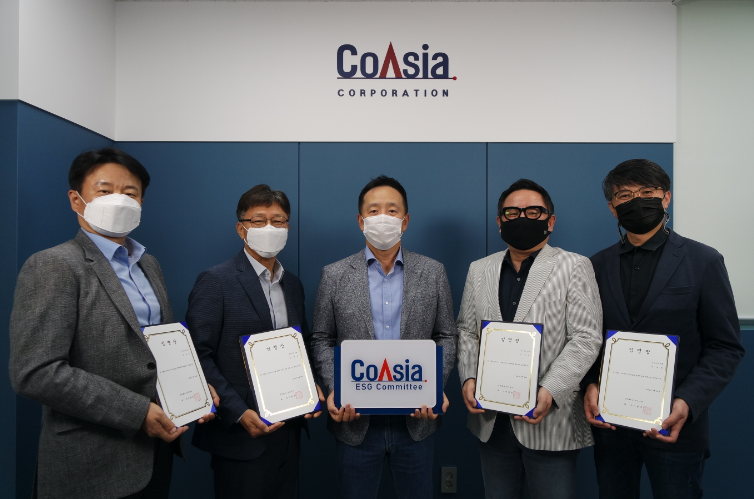 System semiconductor specialist CoAsia (045970) is enhancing sustainable management through the establishment of a group-level "Environmental, Social, and Governance (ESG) Management Committee". 
CoAsia announced on the 25th that it held an inauguration ceremony for the ESG Management Committee at its Seoul office. Lee Hee-Jun, the Chairman, was appointed as the Chairman of the ESG Management Committee, and 10 members were selected as responsible committee members for each business sector. As an external committee member, Jeong Hae-Soo, CEO of Synopsis Korea, who has been actively engaged in global ESG activities, was appointed.
Based on the policies and strategies of the ESG Management Committee and its affiliates, CoAsia aims to strengthen the company's social responsibility, enhance shareholder value through market engagement and continuous communication, and create ESG case studies. Additionally, it plans to focus on strengthening subsidiary capabilities based on a transparent governance structure centered around Chairman Lee Hee-Jun.
The company stated, "We will create a symbiotic structure that grows together with society, focusing on the development of environmentally friendly projects in the system semiconductor business, fostering IP startups with technological capabilities, and establishing environmentally friendly manufacturing processes in the IT component business." They further emphasized, "Rather than solely focusing on external evaluations, we will practice 'mutually beneficial management' through the enhancement of internal operating systems."
EDaily, Park Jung-Soo Reporter